One of his pledges is expanding broadband access all over Maryland.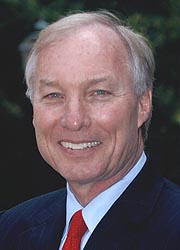 Annapolis, Md (KM) "A Bold Vision for Maryland's Future" is how Democratic gubernatorial candidate Peter Franchot describes his platform. It contains 14 pledges, including one to make 5G and high speed broadband accessible all over Maryland by 2026.
"I'm insisting that as Governor we will get every house connected to high speed internet," he says. "This high speed internet is going to be treated like water or electricity. Everyone has those connections in their apartments and their homes in western Maryland. Everybody's going to have it in 5G or 10G, whatever that is."
Another pledge is the creation of 100,000 jobs in 100 weeks. Franchot says these positions will be in industries of the future. "These are good paying jobs with health care, pensions, a path to the middle class allowing people to buy homes and has financial stability,": he says. "There's going to come about through partners with projects receiving federal and state funding. And the private sector is going to be included. The building trades unions are going to be included."
Other pledges which Franchot says he will follow through on if he's elected as governor next year include improving educational outcomes for all Marylanders; make the state a user and supplier of renewable energy; make diversity, equity and inclusion an element of state government; preserving the state's fiscal strength; and guaranteeing a health future for the Chesapeake Bay
Another pledge will include lowering health care costs and expanding affordable primary and preventative care services. "One of my pledges is that every Marylander will be no more than a 15-minute ride from a federally qualified health clinic or something similar where they can get affordable, easy access to world class medical care," he says.
Franchot pledges to rebuild trust in the competence of state government. "If I, in the first six months, can fix all the potholes on state roads, pick up the trash along state roads, and make every state agency answer the phone within 60-seconds with a live, friendly professional, I think the citizens of the state will drop some of their skepticism about state government and whether we can do anything right," he says.
Franchot is joining a number of Democrats, including former Prince George's County Executive Rushern Baker and Ashwani Jain, a former Obama Administration official.. Others expected to announce are former Maryland Attorney General Doug Gansler; author and anti-poverty activist Wes Moore; Former Democratic National Party Chairman Tom Perez; Baltimore County Executive John Olszewski, Jr.; former Clinton Administration official Joe Baron; and former US Secretary of Education John King, Jr.
Governor Larry Hogan can only serve two terms in office, and cannot run for re-election next year.
Individuals who want to run for Governor have until February 22nd, 2022 at 9:00 PM to file.
By Kevin McManus