Faith Debate Blog
It's Not Miscellaneous; Money Matters to God
This Faith Debate continues a dialog which connects a vast array of dots about "niceness". Misapplying the "Eleventh Commandment – Being nice" has opened the door to all kinds of social ills that plague the church and society as a whole. For example:
The federal government opening wide the southern border to the applause of "nice Christians" who misunderstand biblical "sojourner" teachings.
"Nice" handouts (such as "Trump bucks" and "Biden bucks") necessitates the printing of trillions of dollars, which in turn leads the way to hyperinflation and a stock market completely disconnected from the economic realities of people living paycheck to paycheck because they're trapped in a mandated minimum wage system.
"Niceness" has also discouraged Christians from teaching the full counsel of God, and made many reticent to proclaim the fulness of the Good News that Jesus saves.
This is episode three in a four-part series, with all four recorded while live streaming. The full video is available on Rumble at the Household of Faith in Christ channel: https://rumble.com/c/c-458137
The panel:
Troy Skinner. Pastor of Household of Faith in Christ. www.HouseholdOfFaithInChrist.com
David Forsee. Pastor of The Church That Meets at David's House.
Imran "Raz" Razvi. Pastor and Founder of Conquered By Love Ministries. www.ConqueredByLove.org
Daniel Razvi. Pastor serving The Church That Meets at Imran's House.
Link to Faith Debate podcasts on iTunes here. Stream, Share, Download, and Embed past shows using the WFMD "Audio Vault".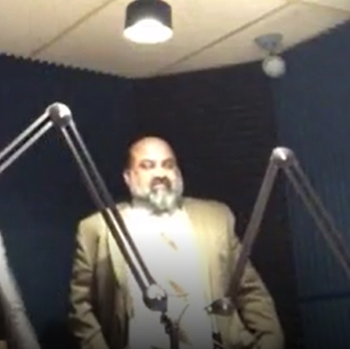 Archives
Sundays 9AM to 9:30AM
The Frederick Faith Debate is designed to be an open an honest forum for local faith community leaders to share and discuss their views of the truth.  Lady Bird Johnson once said, "the clash of ideas is the sound of freedom".  In that spirit, the show seriously wrestles with important ideas… the participant often disagreeing with one another.  The hope is that through this wrestling a better understanding of the truth will develop with regards to the most important issues facing the world.
In other words, The Frederick Faith Debate is home to conflict resolution on the issues that matter most.  We can't truly resolve anything without understanding.  And we can't gain authentic understanding without honesty.  So, that's what you get here.  A safe haven for honesty.  We share what we hold to be true and why.  Where there's disagreement, we hash it out.  Because we know why we're here, there's no worry over hurt feelings.  At the end, if we fail to persuade each other within the confines of our program's allotted time, we will at least know not only where we stand, but the reasons that we camp out where we do.
Host Bio
Troy is a lifelong Chicago sports fan who worked at several Chicago radio and TV outlets before moving to Orlando where he worked at country music station WFIV as the morning sports anchor and afternoon disc jockey for three years. He then worked as a news reporter/anchor/producer at News Talk station WWNZ for several years.
Troy also served as the network producer of the Orlando Magic Radio Network for this NBA team's first two years of existence. He also became the senior producer/sidekick of a daily sports radio show before then being offered the opportunity to host his own call-in sports radio program on a network of seventeen stations throughout the state of Florida. Affectionately known to listeners as "Mr. Cub", Troy's wife, Dina became known as "Mrs. Cub" after he proposed to her live on the air. (Their two children were later dubbed "Babies Cub".)
Troy departed Orlando to become Executive Producer of WSYR in Syracuse. One year later he was named Assistant Program Director for News Talk WSYR and Sports Talk WHEN. One year after that he added the title of MAPs Director. (Marketing, Advertising, and Promotions Director.) After one more year Troy was named Program Director for both WSYR and WHEN; before adding the responsibilities of News Director, as well.
During his time in Syracuse WSYR was the recipient of numerous local and regional Associated Press awards, the Edward R. Murrow Award for news excellence, and the National Association of Broadcaster's Crystal Award in recognition of service to the community.
Troy departed Syracuse to join the Affiliate Sales division of national program syndicator Westwood One. Then in 2001, Troy was in Frederick as a member of the WFMD/WFRE local sales team, where he was elevated to Local Sales Manager in 2004, General Sales Manager in 2007, and later to Director of Sales before leaving for a stint at WRBS radio in Baltimore, and then returning to WFMD/WFRE.
Troy holds a Master of Divinity Degree from Reformed Theological Seminary, and in 2004 began hosting The Frederick Faith Debate with Jonathan Switzer of Crossroads Valley Church and Crossed Bridges. Guests on the program have ranged from Buddhist to Baha'i. Roman Catholic to Eastern Orthodox. Atheist to Agnostic. Mormon to Muslim. Unitarian to Jewish. Charismatic to Presbyterian. Esoteric New Age Psychology adherent to Conservative Fundamentalist.