The Md. Comptroller's Office is holding almost $2-billion in unclaimed property.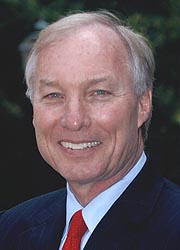 Annapolis, Md (KM) In order to get the word out about finding the owners of unclaimed property, the Maryland Comptroller's Office is taking a cue from "The Brady Bunch," an old family sitcom from the 1970's. But it's "The Franchot Bunch," according to Comptroller Peter Franchot. "Obviously, a very popular old show. But we wanted to emphasize that there's an expert staff that is ready, willing and able to help people get united with their money which we are holding at the state level," he says.
The Maryland Comptroller's Office says it has 1.1-million accounts with a value of more than $1.9-billion.
Unclaimed property can be forgotten bank accounts and insurance policies, the contents of safe deposit boxes, stocks, bonds and other items.
Franchot says, for example, insurance companies, banks and other companies must turn this property over the state after a certain period of time if they go unclaimed.  . "If they cannot find you and they're holding your money, and they don't hear from you after three years, they, for example, have to turn over all the contents of a safe deposit boxes in a bank for example to the State of Maryland and we hold it in perpetuity," says Franchot.
Recently, the Comptroller's Office published a 140-page insert which was placed in 25 newspapers around Maryland which has a list of individuals and businesses which have unclaimed property being held by the state. The publication contained a list of 63,310 accounts worth more than $59.3-million.
Anyone who sees their name on the list, Franchot says they should contact the Comptroller's Office at 410-767-1700, or call toll free at 1-800-782-7383, or send an e-mail to unclaim@marylandtaxes.gov. "Once we ascertain that you are, for example, the person who is listed or a relative or an heir, then we tell you how much is in it,": he says. "If we continue to have the interaction, and you are the correct person, then we cut a check."
The amount can range form $5.00 to a half a million dollars, Franchot says.
He also says the Comptroller's Office staff has a method for weeding out fraudulent callers who are only interested in getting their hands on the money. "Since we're not listing what the property is or what the amount is in the summary, we kind of sift out a lot of these fraudsters," says Franchot. "They can spend a lot of time trying to impersonate someone and end up with $5."
Anyone who wants to search the database of unclaimed property can go on line to www.marylandtaxes.gov/unclaimed-property/index.php.
Bu Kevin McManus