They encourage you to take in a public fireworks display.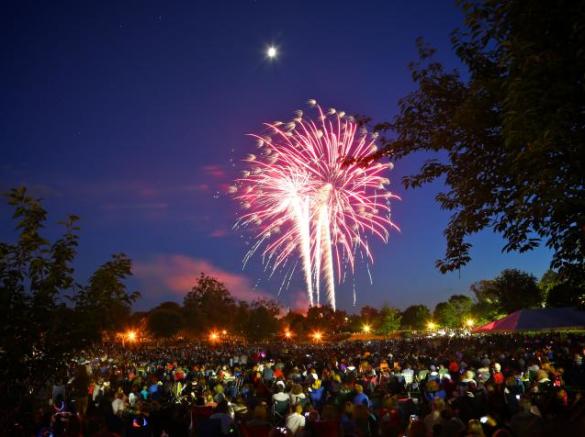 Frederick, Md (KM) No Fourth of July celebration would  be complete without fireworks. Troy Grossnickle, Battalion Chief with Frederick County Fire  and Rescue Services assigned to the Fire Marshal's Office, says it's best to take in a public fireworks display and let the pros handle the pyrotechnics. . "Every year, approximately 18,000 fires start as a result of fireworks, and about $43-million in direct property damage as a result of fireworks nationwide," he says.
Also, fireworks are responsible for  an estimated 12,900 emergency room visits across the country each year.
But if you want to use consumer fireworks, Grossnickle says use the ones that are legal in Maryland which are gold-label sparklers and ground-based sparklers. He says also read and follow label instructions and warnings. "Only lighting one sparklers at a time. Obviously adults lighting would be best, he says.  Consumer fireworks are prohibited in Montgomery, Prince George's, Howard and Harford Counties, and Baltimore city, and Ocean City.
Along with that, Grossnickle says don't consume alcohol when using fireworks. "You want  to make sure your pets aren't in sight. You want to keep a fire extinguisher nearby," he says.
Another safety tip is to fully extinguish the remains of all fireworks before disposal.
Fire officials says don't use fireworks which are illegal in Maryland. Grossnickle says they are "firecrackers, cherry bombs, M-80's, smoke bombs, bottle rockets, skyrockets, spinning wheels," he says. "Any fireworks that you can shoot from a mortar too. Those are all things that are illegal and you should not use in Frederick County."
Violators could face fines and citations and have the illegal fireworks confiscated.
It can present a challenge to fire officials in Maryland when some residents visit Pennsylvania or surrounding states to purchase fireworks which are prohibited in their home state. "It's not illegal to possess the fireworks. Where  you get in trouble is where you have the intent to use those fireworks within Frederick County. You could be issued a violation for it, and they can be confiscated," says Grossnickle.
By Kevin McManus
.