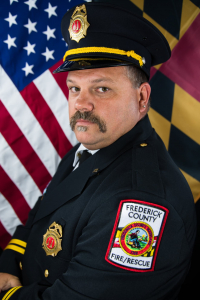 Captain Joshua Laird died from injuries suffered in the fire on Ball Road

Frederick, Md. (DG) – A Frederick County Fire Fighter has died after battling a house fire Wednesday evening in Ijamsville.
At a news conference last night Frederick County Division of Fire and Rescue Services Chief Tom Coe said Captain Joshua Laird, 46, died after falling through the floor of a house on Ball Road.
"Josh has been a member of the fire and rescue family for more 21 years, and the void that he leaves behind will never be filled," Coe said at the Division of Fire and Rescue Services.
Fire crews were dispatched to the 9500 block of Ball Road for a house possibly struck by lightning at around 5 p.m. Arriving units saw heavy fire coming from the roof and requested additional personnel.
While fighting the blaze, a mayday call was sent after a firefighter fell through the floor of the house.
Once Laird was rescued from the building he was immediately given advanced life support and then flown to MedStar by Maryland State Police helicopter.
"We ask that everyone give the Laird family, as well as our fire fighters some privacy as they cope with the loss of beloved husband, father, son, friend, and mentor", Coe added.
The investigation into the fire is continuing.