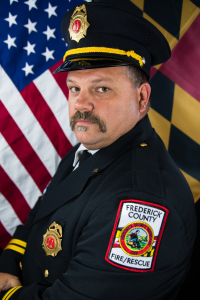 Websites have also set up for people who want to help the fire fighter's family.
Frederick, Md (KM) Funeral preparations are being made for Captain Joshua Laird. He's the Frederick County fire fighter who died on Wednesday after falling through a floor while working to extinguish a house fire in Ijamsville. Laird was 46-years old with 21 years experience in the fire service. He leaves behind a wife and two daughters.
Fire and Rescue Services officials says Laird's body has been transported Thursday night from Washington Hospital Center to the Maryland State Medical Examiner's Office for an autopsy. Frederick County Engine 251 and Ambulance 259 provided an escort, along with Frederick County Fire and Rescue Services Management, IAFF Local 3666, the DC Fire and Emergency Medical Services Department, the DC Fire Fighters Burn Foundation, and various law enforcement agencies.
Once the autopsy is completed, Captain Laird will be escorted to Frederick County with a full procession with honors.
No funeral date has been set, but Frederick County Division of Fire and Rescue Services, and Maryland first responders from Anne Arundel, Frederick, Howard and Montgomery Counties, along with Loudon County, Virginia, the National Capital Region Incident Management Team and the IAFF 3666 are working toward a smooth process so that Captain Laird is laid to rest.
Fire officials also say two websites have been set up for those who want to donate money to help Laird's family at this difficult time.:
For those wishing to help the family and donate meals, go to https://www.mealtrain.com/trains/d153nz?fbclid=IwAR1uN9hib_NJ86a2PPfItjBp1bAgc_CpfnDBtXUqcxl9y6CliBcC1IF1MEI.
To donate funds, go to https://www.gofundme.com/f/donations-for-the-laird-family?utm_campaign=p_lico+share-sheet&utm_medium=copy_link&utm_source=customer.
Fire officials also ask citizens to respect the privacy of the family.
By Kevin McManus