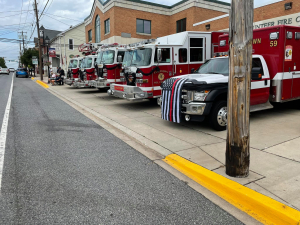 The 21-year veteran of FCDFRS died on Wednesday battling a house fire

Hundreds gathered along a 90 mile procession route as fallen fire fighter, Frederick County Fire and Rescue Division Battalion Chief Joshua Laird was brought from the Medical Examiner's Office in Washington, D.C. to a funeral home in Taneytown on Saturday.
The 46-year-old died Wednesday from injuries he sustained while battling a house fire on Ball Road in Ijamsville
Vicky Shockley came to Taneytown to see the procesion and support the Laird family.
"Yes, it's very sad. I know the family so that's why we came up to see the procession," Shocky said.
Laird was a 21-year veteran of FCDFRS.
Cathleen Bolduc also felt it was important to come to the procession.
"It is a very sad day, however our Taneytown group is very good at helping the community and everything," Bolduc said.
On Monday at 12:30 PM a procession will take Laird from Fairfield, Pennsylvania to Mount Saint Mary's University in Emmitsburg to the PNC Sports Complex.
A public viewing will be held Monday from 2 until 8 PM. His funeral service is scheduled for 1 PM on Tuesday at the PNC Sports Complex. There will not be a graveside service following the funeral.
Laird leaves behind a wife and two children.