The vote for approval was unanimous.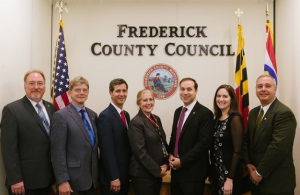 Frederick, MD (KM) In a unanimous vote Tuesday night, the Frederick County Council agreed to accept more than $25 million dollars from the federal government.
Chief Administrative Officer Rick Harcum said the money is part of the American Rescue Plan Act (ARPA) which was passed by Congress and signed into law by the President earlier this year. The plan is intended to help local communities which were impacted by the COVID-19 pandemic.
Harcum said the U.S. Treasury Department still needs to determine how local jurisdictions can spend this money.
"The rules are interim right now because they are under development. Treasury staff were probably caught a little bit by surprise the speed of this law came into existence, so they are racing to give us the final rule," he said.
Chief Financial Officer Lori Depies said a number of ideas have been proposed on how to spend this money. She said one suggestion is a newborn nurse visiting program.
"For every birth at Frederick Hospital, a nurse would go out in the weeks that pass after the newborn goes home where they check in on the mom, they check in on the baby, and they see how things are going and they identify needs that they may have and they connect them with resources," she explained.
Depies gave example of another program the money could be used for.
"Partnering with Frederick Community College to stand up a child care provider program that would provide what they need and maybe we could partner with them and provide a certain level of funding, and that they could actually provide the tuition-free assistance to be able to go — something like that," she said.
The county has put a survey online for citizens to offer their ideas on how to use this federal money. The survey will continue through August 24th.