Governor Larry Hogan was among those who spoke.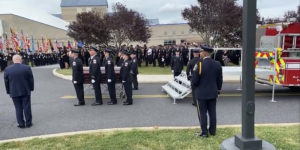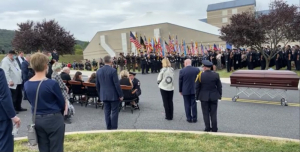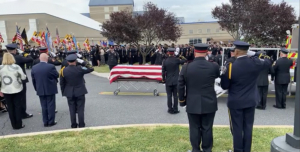 Emmitsburg, MD (KM) Bagpipes played while the casket of Battalion Chief Josh Laird entered the Knott Arena at Mount Saint Mary's University on Tuesday afternoon. A large crowd of people attended the funeral for the fallen firefighter.
Laird died last week while fighting a house fire on Ball Road in Ijamsville. Governor Larry Hogan said Laird made a difference in the lives of many people.
"Throughout his incredible life, Josh Laird meant so much to so many people," the Governor said. "He was a beloved husband and father, a trusted leader and mentor, and a loyal friend."
County Fire and Rescue Chief Tom Coe said Laird left us too soon.
"Josh was always willing to step up and take on a new task, including his recent service in several positions within our COVID Incident Management team," he said.
Laird's family also spoke at the service. His 14-year-old daughter Erin remembered her father's belief of living life to the fullest.
"My dad was unapologetically himself, and I admire that about him," she said.
His other daughter Madeline had similar comments.
"He also did so many good things, like when we went out to local sit-down restaurants, a lot of times he liked to pay for random people's bills without even looking at them," she said.
Governor Hogan recounted the moments after Laird was injured falling through a floor inside the home.
"The last words spoken on his portable radio in his trademark calm were: 'Tell my family I love them,'" said Hogan.
County Executive Jan Gardner told Laird's family she and the community share their heartbreak.
"We want you to know that you're not alone — you're surrounded by the love of this community, by your Frederick County government family, by your fire service family — and we're here for you now, and into the future," she said.
Laird began his 21 years of service with Frederick County Fire and Rescue on July 31st, 2000.