Officials say it's  partly due to a labor shortage in the region.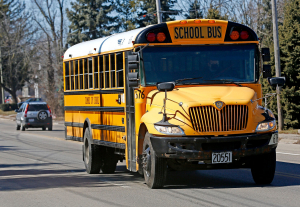 Frederick, Md (KM) The very familiar yellow school bus is once again on the roads in Frederick County. But there's not enough drivers to operate them. Spokesman Brandon Oland with Frederick County Publics Schools says the school system is experience at shortage of about 25 drivers. "We attribute it in part to the labor shortage that we're seeing across the region. You see 'help wanted' signs popping up everywhere," he says.
Oland says FCPS has been actively recruiting school bus drivers. "We've had job fairs. We had a booth at the Jefferson Carnival. We've been everywhere throughout the county, recruiting," he says. That's in addition signs in front of school buildings saying "School Bus Drivers Wanted."
Oland says other school districts are having this problem
But the Frederick County School System has been able to adjust to the shortage of school bus drivers. "The good news is we've been able to make a few changes to our routes, and everyone that has a CDL license is chipping in and driving right now," he says. "We're making sure we getting students back home safely and to school everyday."
Oland says anyone whose interested in being a school driver needs a commercial driver's license from the State of Maryland. But if they apply and they don't have one, the School System can help them get it. He also says the School System trains it's drivers.
"if you know a school bus driver, we encourage you to reach out to them," Oland continues. "They can tell how they enjoy the job and why they feel it is such an important job. Our school bus drivers are the first FCPS employees that our students see every day and the last one before they go home. They really set the tone for the entire day."
By Kevin McManus