The camp is always looking for new volunteers.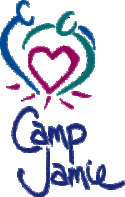 Frederick, MD (NS) September 25 is camp day for kids in the Frederick community who are experiencing the death of a loved one.
Kaili Van Waveren, the traumatic grief specialist for Frederick Health Hospice, says Camp Jamie is a very important tool to help these grieving children and adolescents deal with significant loss.
She says, "Our day camp is actually a family camp. For the first half of the day we spend time doing grief work and therapeutic activities with the children and adolescents. And then family members join for the second part of the day to do activities together and to memorialize their loved ones."
The camp uses art, animals such as service dogs and alpacas, and traditional camp activities to help the kids feel comfortable about talking about their grief and loss.
Van Waveren says their goal is to create a "safe space" for kids to communicate. Along with helping the kids grieve and memorialize their loved ones, the camp will help the children focus on how they will always be connected to their loved one.
For many kids, this camp is the first time they have interacted with someone else their age who is going through similar circumstances.
Van Waveren says Frederick County has a disproportionate amount of overdose and suicide deaths. She says the community aspect of this camp really helps kids who feel alone with their loss.
Thanks to donations, the camp is free for the families. Volunteers also play a large role in the camp. If you want to volunteer, visit https://www.frederickhealthhospice.org/Grief-Loss.aspx and look under the Camp Jamie tab.