A funeral service was held on Friday morning.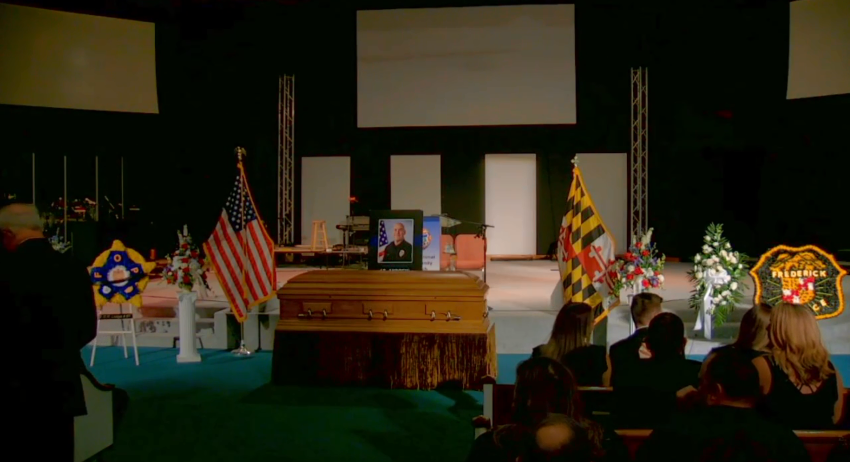 Frederick, MD (KB) The Frederick community gathered on Friday morning to honor Lieutenant Andrew "Stew" Alcorn IV who died unexpectedly on Sunday, August 22nd, 2021.
Chief of the Frederick Police Department, Jason Lando, shared some words about Stew.
"He was extremely thoughtful as well, always concerned about the feelings of others," said Lando. "Stew always put others before himself, he was a true servant leader. Speaking of leaders, Stew loved his team at CID. His detectives were like a second family to him. But more than anything, he loved his actual family. They were clearly his whole world."
Drew Alcorn, Stew's oldest son, said he'll continue to do everything in honor of his father.
"This is not a goodbye, but a thank you. A thank you for coming into my life and showing and teaching me how to love," he said. "My heart breaks a little more every time I hear your name, and I'll love you everyday."
Stew's brother, John Alcorn, described him as "superman" in an emotional tribute.
"All of us have one or two people in our lives that we know we can call at any time for anything, day or night," his brother said. "Stew was that friend for most of you. How my brother managed to be 'that guy' for this many people… wow. On behalf of my brother, I want to thank you for coming to the last, and the biggest party he has ever thrown."
Stew served as the commander of the Criminal Investigations Division for the Frederick Police Department. He is survived by his wife, Jen, and their three children.
A GoFundMe page has also been established for the public to assist the Alcorn family.
Link: https://gf.me/v/c/rh6p/donations-for-the-alcorn-family