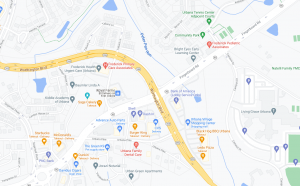 Suspect ran into the woods after police told him to put the machete down

Urbana, Md. (DG) – A man yielding a machete in Urbana was taken into custody Friday evening by Frederick County Sheriff's Deputies.
Police received calls around 6:30 p.m.about a man walking in the area of Worthington Boulevard and Fingerboard Road and waving a machete.
Deputies responded and located the subject walking along Addison Woods Road. The man was still holding the machete. Police approached and advised him to put the weapon down, but he took off running into a nearby wooded area.
Additional deputies responded to the highly populated neighborhood to search for the man and to ensure the safety of the community. Trooper 3 with Maryland State Police was requested to help find the suspect.
Deputies went into the woods and located the subject. The man ignored their commands to stop. He continued to run through the woods until he was meet by deputies on Sugarloaf Parkway near Bush Creek Drive where they placed him into custody.
The suspect was taken to Frederick Health Hospital for a mental health evaluation. Additional criminal charges are pending.