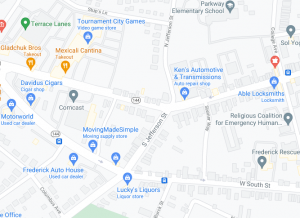 Crash happened early Sunday morning
Frederick, Md (DG) – Frederick Police are reporting a 24-year-old woman died after a motorcycle crash in city early Sunday morning.
Officers were dispatched to West Patrick and North Jefferson Streets for the accident at 12:10 a.m. Sunday.
Police say Emmanuelle Bruce was a passenger on the motorcycle, and was transported to a local hospital with serious injuries. She was later pronounced dead.
The driver of the motorcycle also suffered serious injuries and was transported to an area hospital.
The crash remains under investigation.