One was a water rescue involving a school bus.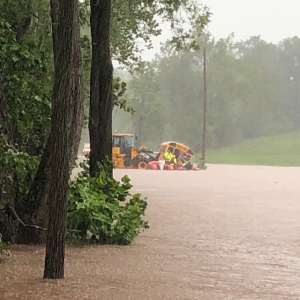 Frederick, Md (KM). Tropical Depression Ida came through Frederick County on Wednesday, bringing with it heavy rains, a tornado watch and flash flood warnings.
Fire and Rescue officials say there were numerous water rescues, including one involving a Frederick County Public Schools bus which was bringing students home from school.. That one occurred just before 3:00 PM in the area of Hessong Bridge Road and Blacks Mill Road. Ten students and one driver were successfully rescued. They were evaluated and made it safety to their homes.
There were two other school bus incidents, but there was no immediate danger and fire and rescue services were not needed. At 3:07 PM at Hiney Road and Legore Road, fire and rescue crews assisted the driver in maneuvering the bus out of a flooded area. And at 3:49 PM, there was a water rescue involving a bus in the area of New Design Road and Mountville Road. But no fire and rescue services were needed, officials say..
As of 8:30 PM Wednesday, fire and rescue units responded to 22 water rescue calls, 56 flooding conditions, and 13 vehicle accidents, according to emergency officials.
Frederick County also received assistance from units in Carroll, Washington and Montgomery Counties, and Adams County in Pennsylvania. Fire and rescue officials say the Sheriff's Office, Maryland State Police and Frederick City Police also provided assistance.
As of Wednesday night, there are 83 road closures in Frederick City, and the County due to flooding or road construction, county officials say.
Residents are asked to avoid travel as Tropical Depression Ida moves through Frederick County.
By Kevin McManus