She says the county is in the middle of a second wave of COVID-19.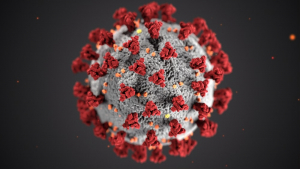 Frederick, Md (KM) Frederick County is in the middle of the second highest wave of COVID-19 since the pandemic began last year. That comment comes from County Executive Jan Gardner, who said the county has recorded 21,621 confirmed cases of the coronavirus since the pandemic began in 2020, and 341 deaths. The county's positivity rate is 4.43%, which is the percentage of those testing positive for COVID-19 out of all of those tested.
"If you follow the number the numbers regularly, you know that we are in the midst of another wave or surge of COVID-19 thanks to the highly contagious delta variant," she says. "Frederick County continues to see high levels of community transmission, according to Centers for Disease Control and Prevention."
The CDC says the Level of Community Transmission in Frederick County as high. The agency recommends individuals in the county wear masks, even if they're vaccinated.
Gardner, who spoke at a public information briefing on Thursday, said the virus has been detected in 12 public schools and six nursing homes. "Our children and our vulnerable seniors in our nursing homes, and outside our nursing homes, are among the reasons why the rest of us need to be vaccinated," she says. "We really need to protect our most vulnerable people in our midst. We need to protect the young and we need to protect those who are medically fragile and vulnerable from the devastating effects of this virus," she says.
Another recent trend is an increase in the number of patients being treated for COVID at the local hospital. "Unfortunately, hospitalizations remain high in Frederick County with 30 at Frederick Health Hospital being treated for COVID-19, six of them in the intensive care unit," says Gardner. "Most of these patients are unvaccinated, and they're trending younger with many in their 20's and 30's."
The Health Department says 158, ,567 residents are fully vaccinated against COVID, which is 61.1% of the population. 52.9% have received the first dose, and 54,7% have had the second dose. 6.4% have received the single dose vaccine.
"If you're vaccinated, I want to say thank you for helping to protect not only your own health, but also the health of your family and our entire community," Gardner says. "If you're not yet vaccinated, please get vaccinated. You can come to one of Health Department clinics which are scheduled every week."
She also says the vaccine is available from pharmacists and local doctors.
By Kevin McManus