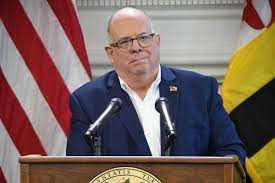 They will also be available from local pharmacies.
Annapolis, Md (KM) Rather than waiting for the federal government to move, Maryland Governor Larry Hogan says he's taking action now regarding COVID-19 booster shots. "Today, the Maryland Department of Health will issue an order which makes all Marylanders 65 and older who are living in congregant care settings immediately eligible for booster shots," says Hogan.
He made that announcement Wednesday in Annapolis during a news conference.
Those congregant care settings include nursing homes, assisted living facilities, residential drug treatment centers and developmentally disabled group homes.
Hogan also announced that the booster shots will be available to even more Marylanders. "The Maryland Department of Health is issuing new guidance today instructing all pharmacies and other providers across the state to administer boosters without any need for a prescription or a doctor's order to anyone who considers themselves immuno-compromised," he said.
In his comments, the Governor said the states have received limited guidance from the federal government when it comes to administering booster shots. Now is the time to act. "But all of the evidence makes it abundantly clear that we cannot to afford to delay taking decisive action to protect our most vulnerable citizens" he says.
"The State of Maryland continues to have a sufficient supply of vaccines on hand for anyone in need of a booster shot," Governor Hogan continues. "And we are fully prepared to immediately move forward with making boosters available to the wider population immediately upon receiving the clear guidance from the federal government."
During his news conference, Hogan asked the Biden Administration to address of the issue of boosters for those who've received the one-dose Johnson and Johnson vaccine, and to provide full US Food and Drug Administration approval for the Moderna vaccine, which only has emergency use authorization. In addition, he called for advancing the process for making the vaccines available for children age five to 11. Currently, the Pfizer vaccine is the only one which can be administered to children 12 and older.
The Governor also announced the launch of the Community COVID-19 Vaccination Project, "a new $3-million statewide, community-based, door-to-door canvassing effort to directly engage Marylanders living in areas with low vaccination rates, and in an effort to encourage more vaccinations and to provide health education in at-risk neighborhoods."
He also said mobile clinics will continue to held to reach people wherever they are.
By Kevin McManus