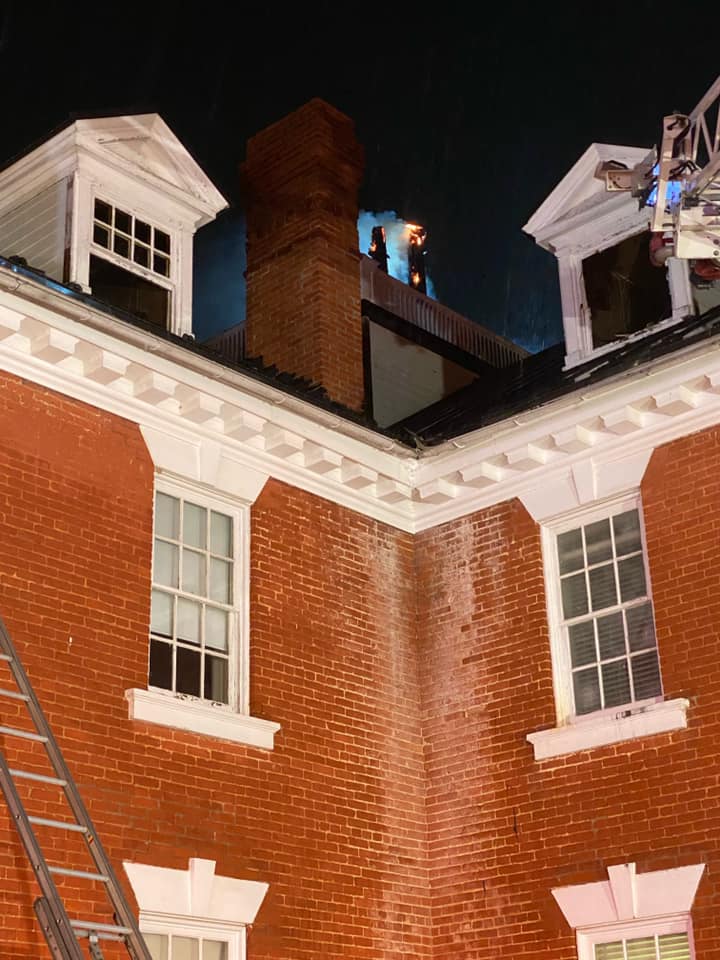 Statement from Hood College's Facebook page:
"At 1:49 a.m., the fire alarm in Brodbeck Hall was activated. Campus safety investigated and immediately dispatched the fire department. Frederick County Fire & Rescue (FCFR) arrived on scene at 1:53 a.m. to find flames at the top of the cupola. Smith Hall was evacuated as a precaution and students were moved to Whitaker Commons until given the all-clear by FCFR by 2:30 a.m. By 3 a.m., the fire was fully contained.
FCFR will be on scene throughout the morning to complete their investigation. Roadways around Brodbeck will be closed. Power to Carson and Strawn Cottages and Admission House is out; those buildings will be closed today until power is restored to that side of campus. Alumnae House and Tatem Hall are not affected.
Brodbeck Hall is strictly off limits until further notice. Please avoid the walkways/roadways around that building to maintain a safe perimeter.
Brodbeck holds a special place as the oldest building on our campus. Although we don't yet know the cause or the extent of the damage, it appears that the fire was primarily contained to the third floor. We are saddened by this event, but we must remember that the safety of our community is what is most important.
At President Chapdelaine's request, FCFR was able to provide protective covering to the organ, pianos and other instruments as best they could to prevent water damage.
We are so grateful to the quick response of campus safety, the RA's who took care of our Smith residents, and of course, the FCFR for their service."