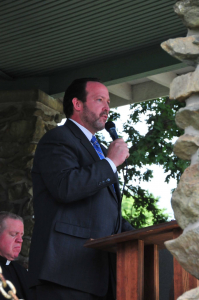 He says pulling our troops out of Afghanistan isn't a military decision, but a political decision.
Frederick, MD (NS) Marty Burns, former mayor of Thurmont and U.S. Marine, worked at the Pentagon on September 11, 2001. In fact, he still has the same office there.
When on WFMD's Morning News Express, he told his story of what happened on that day. He said they were unpacking from moving into a new office when they heard of the first plane hitting the World Trade Center.
He went down a corridors where there was cable TV and saw a plane fly into Tower 2. He says it was then that they knew we were under attack.
Soon after watching President George W. Bush make a statement on TV, Burns says a plane hit the Pentagon below them.
They were on the 5th floor. His floor dropped 3 feet at first but did not completely collapse for about 10 minutes, allowing them to escape.
Burns says it was like all of a sudden your office was filled with talcum powder.
He said there was mass panic of people running for their lives, but he felt like God was giving him a state of calm.
When asked about the handling of removing troops from Afghanistan he said, "This isn't a military decision, this is a political decision."
Burns thinks the military did not appropriately leave, "We should have kept a contingent of 3 thousand to 5 thousand Marines, Sailors, Army, Air Force, a base over there… because we then can respond immediately to things that would hurt our homeland and our interests. We've done it over in Japan after the war. We've done it in Germany… Because if you ask us to go in immediately, it does take some time and some days to logistically get our military when we need them. The political leaders make the call. We follow orders."
He concluded, "We should have stayed there, made sure every American citizen was out and then after that, the last people to leave is the military."