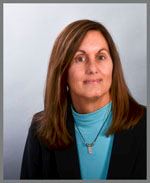 She has been alderman for 12 years.
Frederick, MD (NS) Alderman Kelly Russell served for 22 years on the Frederick Police Department and retired as a lieutenant before being elected to the Board of Aldermen.
"My entire adult life has been in the service of the City of Frederick," she says. "I love the City of Frederick. I love being in public service."
Russell says she has served on a lot of committees and commissions that have given her a broad view of what goes on in a city and how things are done, "I prepare for the decisions I make. I work really hard to see all the sides of an issue. I'm happy and willing to explain my positions. I'm also willing to hear feedback on an issue and I can be compelled to change my view if the case has been made."
She is excited about the new Police Headquarters and it's potential for the future.
If re-elected, she would like to see some movement on the hotel conference center. She is also interested in achieving significant completion of the Rails with Trails and other trails that increase connectivity across the county.