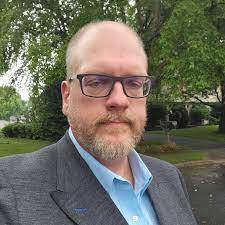 He says he's a community activist and advocate.
Frederick, MD (KB) Robert Van Rens is running for the Frederick City Board of Aldermen. He said he's qualified for the job.
"I'm a community activist and advocate and I got involved in running for office because I saw that there were issues that weren't being addressed and I hope to have a chance to address them myself," he said.
Van Rens said he has many goals he hopes to accomplish if elected as Alderman.
"I would like to see city government have better defined and more transparent processes for a lot of the things that it does so ithat t's easier for citizens to engage with governmental process — easier for them to understand and follow it," he explained.
If elected, Van Rens said he would also like to see more effective representation across the city.
He said he has been stayed involved in state and local activism throughout the pandemic.
"During COVID I've been working on things like tenants rights trying to make sure that rescue money gets to people who need it," he said. "I want to move beyond that, I want to move into a position where I can start to really make a difference at the policy level."
Frederick City's Primary Election will take place September 14th and the General Election will be held November 2nd, 2021.