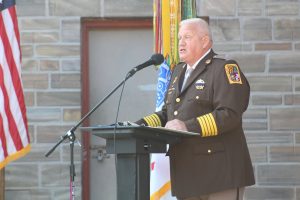 He thinks everything he said is important to know.
Frederick, MD (NS) Sheriff Chuck Jenkins joined WFMD's Morning News Express to discuss his contended speech he gave at the 9/11 20th Anniversary Remembrance Ceremony.
He drew criticism for discussing the differences between police/public relations between now and then as well as the recent resurgence of the Taliban. He said he was aware that people could react poorly to the speech, but he thought it was important enough to be said.
Jenkins said, "If you don't understand what the threats are, we're going to be in worse shape going forward."
He believes the country is far more divided now than it was after 9/11. "Law enforcement, the day after, was never more respected or valued to society. Twenty years later, we're so disrespected and hated it's unbelievable." He then asked, "How do we pull it all back? Because if we don't pull it back, we are not going to get through this."
Jenkins thinks recent developments in the Middle East will increase terror threats in the future.
The Sheriff also discussed the news of the threats made to Monocacy Middle School. He praised the work of the school resource officers.
He said this example further shows why it is important to have law enforcement in schools for the safety of the students and staff. He commended the work of the Frederick Police Department with the situation.