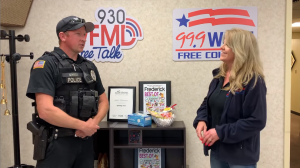 Cpl. Kyle Minnick was admitted to the hospital on August 11.
Thurmont, MD (KB) Corporal Kyle Minnick with the Thurmont Police Department was diagnosed with both COVID-19 and pneumonia and admitted to Waynesboro Hospital on August 11th, 2021. That's according to Kyle Minnick's wife, Laura Minnick.
She said Kyle's condition worsened six days later on August 17th, and he was intubated and flown to York Hospital where he was put on an ECMO machine. On September 4th, Kyle made enough progress to be taken off of the ECMO machine.
Family friend of the Minnicks and organizer of the family's GoFundMe page, Teressa Preston, described Kyle as an "amazing person."
"Not only is he a police officer, he is a husband and a dad. Kyle is very sick with COVID. Kyle is a young, healthy and active person until this illness has taken him down," said Preston.
A GoFundMe page has been set up for the Minnick family to help with unexpected hospital costs, as well as the reduction of income due to Kyle being in the hospital.
"This outlet for donations has been created for those who have felt led to help with offsetting the unexpected financial impacts that have arisen from the unexpected illness. Please know from the bottom of my heart and I know Kyle's too, we are deeply moved and thankful for any support and love that has been shown as we both prefer to pour out over being poured into," wrote Laura.
Preston asked for supporters to help out the Minnick family just as Kyle would help out others. The page has raised over $4,000 dollars.
Link to the Minnick Family GoFundMe page: https://gofund.me/d14695aa
Link to Kyle Minnick's Full Facebook interview with Dianah Gibson in June 2021: https://fb.watch/84FYBrcu1N/