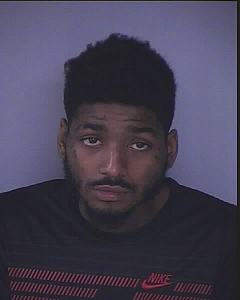 There's an active arrest warrant of Miquan Broadus.
Hagerstown, Md (KM) Hagerstown Police are searching for a suspect involved in a homicide early Saturday morning.
At around 5:47 AM, officers responded to 201 East Franklin Street for a shooting, and located a man who had been shot. They began first aid on the victim until medics arrived. The victim identified as Donovan Ahmod Disney, 21, from Martinsburg, West Virginia, was taken to Meritus Medical Center where he was pronounced dead.
Detectives say they began an investigation, and determined Disney was shot by Miquan Rashad Broadus, 27, during a dispute. A search and seizure warrant was served at 201 Franklin Street, where Broadus lives. But he fled before officers arrived.
Police say there's an active arrest warrant for Broadus whose charged with 1st-degree murder, 2nd-degree murder, 1st-degree assault, 2nd-degree assault and gun related offenses. Anyone who knows of his whereabouts is asked to contact Hagerstown Police. There is a cash reward for information leading to Broadus' arrest. You can call the Criminal Investigations Unit at 301-790-3700, ext. 247.
By Kevin McManus