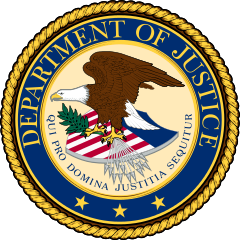 He's also admitted to possessing unregistered firearms.
Baltimore, Md (KM) A former Brunswick Police officer who fled rather than serve a prison sentence for possessing an unregistered firearm pleaded guilty on Monday. In US District Court in Baltimore, James Ian Piccirilli, 40, of Mount Airy, admitted that he failed to surrender for sentencing last year, and to possessing additional firearms while on the run. Sentencing is scheduled for November 19th, 2021.
The US Attorney's Office for Maryland says Piccirilli had entered a guilty plea on January 14th, 2020 for possessing an unregistered firearm, and was sentenced to 30-months in prison. Federal officials say he took a MKE 5.5mm caliber firearm which he attempted to convert into a fully automatic, short-barreled rifle. Piccirilli brought it to the home of another person who was a licensed gun dealer in Maryland. He also tried to sell it to an undercover AFT agent, but was arrested.
AFT agents searched Piccirilli's home and two vehicles. and found 10 unregistered firearms.
He was ordered to surrender on March 16th, 2020 to begin his prison sentence, but his probation officer said Piccirilli disabled his ankle monitor, and did not return home by his curfew. Afterward, federal officials learned that PIccirilli and his girlfriend, Kellie Nicole Warfield, 30, of Mount Airy, disposed of their cell phones and sold their vehicle.
Investigators were able to locate Piccirilli and Warfield in Ramsey, Indiana. He and Warfield were arrested on October 13th, 2020 at a restaurant in New Salisbury, Indiana, where Warfield worked. The two were living in a camper attached to a truck.
Federal authorities search the vehicle, and found that he had accumulated additional unregistered firearms.
The US Attorney's Office say if the court agrees to a plea agreement worked out with Piccirilli, he could be sentenced to between 30-months to 46-months incarceration for failing to surrender to serve his prison sentence, and possessing unregistered firearms.
By Kevin McManus