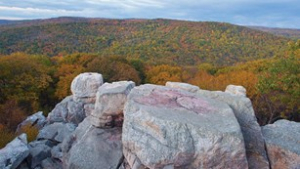 Most sections of the park will still be open to visitors.
Thurmont, Md (KM ) The National Park Service says portions of Catoctin Mountain Park will be closed this weekend due to increased security measures.
The Presidential retreat Camp David is located at Catoctin Mountain Park.
Beginning on Friday, September 24th at 3:00 PM and continuing through Sunday, September 26th at 8:00 PM, Park Central Road will be closed between Thurmont Vista and the Camp Greentop entrance. Trails to Blue Ridge Summit Vista and Hog Rock Overlook will also be closed.
All other roads, trails, campgrounds and picnic areas will remain open for visitors.
The Park Service says the parking at the Visitors Center will be open, but could full up early in the day. Visitors can find additional parking on the west side of the park at Camp Round Meadows, Chestnut Picnic Area, and Owens Picnic Area. Public restrooms will also be available at those two picnic areas.
Hikers can also find trail maps throughout the park.
For more information on park facilities and their availability, call 301-663-9388, or visit the Parks' website at www.nps.gov/cato.
By Kevin McManus