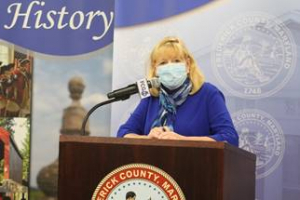 County facilities will remain closed to the public until Nov. 1st.
Frederick, Md  (KM)  Frederick Continues to be battered by the COVID-19 virus, according to County Executive Jan Gardner, who held a public information briefing on Thursday.
Even though 162,580 county residents–62.2% of the population–are fully vaccinated, Gardner says there are 49,000 citizens who still haven't rolled up their sleeves. She also said Frederick Health Hospital is currently treating 31 COVID-19 patients, and six are in the intensive care unit. Many of them are unvaccinated. "I will say that the people who are being hospitalized–many of whom are unvaccinated–are also younger because the higher percentage of our older people are vaccinated," she says.
The County Health Department says 91.6% of the local population 65 and older have been fully vaccinated. The agency also says 78% of the population 18 and older have been fully vaccinated; 76.7% of the population 12 and older have received all their COVID shots, and 64.4% of those 12 to 17 years of age are fully vaccinated.
As of Thursday, the Health Department also says there have been 22,691 cases of the coronavirus since the pandemic began last year, and 391 have died. The seven-day positivity rate if 4.60%.
The US Centers for Disease Control and Prevention says Frederick County has a high level of community transmission of COVID-19. The CDC has recommended everyone, including those who have been vaccinated, continue to wear a mask especially in areas of high community transmission.
"Frederick County's case rates is the highest among the state's big eight population counties," says Gardner. "So that's not a positive statistic for me to share."
She also says COVID has appeared in a number of local settings. "So 18 of our schools are reporting to have an outbreak, and that includes a number of our public and private schools at all age levels," Gardner says. "Five of our nursing homes appear on the state's COVID dashboard this week. And there are confirmed cases among both staff and inmates at the Adult Detention Center which has an outbreak."
As a result of these high rates of transmission, Gardner says county facilities will be continue to be closed to the public until November 1st, except by appointment "And masks will continue to be required to be worn in all public spaces, and shared office spaces," she says.
Gardner says the only way to get out of this pandemic is for everyone who can to get vaccinated. "So my message today is don't let your guard down," she says. "Carefully consider whether you should be gathering in large groups inside. And outside events, while certainly safer, still possess some risks particularly if they're crowded."
By Kevin McManus