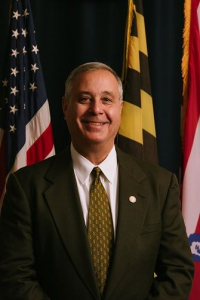 He believes people should make their own decisions on masks and vaccinations.
Frederick, MD (NS) Frederick County Councilman Michael Blue joined WFMD's Frederick Focus Show at The Great Frederick Fair to discuss upcoming elections and COVID mandates.
He wishes that the county's response to the coronavirus would have been a little different. He thinks the county took mandates a bit further than the state, and he would have liked to see the county take the state's recommendations.
"It shouldn't be political." Blue said, "It should be what your doctor is advising you to do. That's what the parents should do and they should be allowed to give their kids the choice to wear a mask or not."
He thinks it's a good choice that the Frederick County Board of Health recommended vaccines and mask wearing but did not require it.
Blue also discussed the primary election for Frederick County Executive which will be on June 28, 2022.
He does not like the direction Kai Hagen or Jessica Fitzwater would take Frederick County if elected County Executive.
If Hagen was elected, he says residents would see financial changes in the form of raised taxes. Blue says there is now way to pay for Hagen's agenda without increasing taxes.
Blue noted that he does not like Jessica Fitzwater's association with the organization Black Lives Matter.
He thinks both Hagen and Fitzwater would take the county further left.