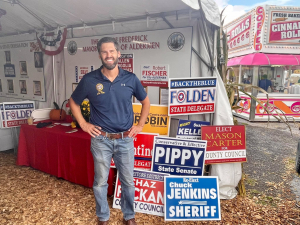 He withdrew from the race on Thursday.
Frederick, Md. (DG) – Delegate Jesse Pippy has withdrawn his candidacy for the District 4 State Senate race to represent parts of Frederick and Carroll counties.
He was running for the seat held by State Senator Michael Hough.
On Thursday the Republican withdrew from the race. He issued a statement on his official Facebook page.
"I want to thank everyone for reaching out in light of the noticed change in my filing status for Maryland State Senate. The process of filing, withdrawing, or refiling for elective office is procedural and takes approximately 15 minutes. However, that's not what this was about.
The truth of matter is that from the moment I filed the inside politics has been non-stop. I understand that comes with the position, however I needed to take a brief moment and step back to ensure that I am taking care of my personal priorities as well. I am all in for the public service, but the inside politics, which has nothing to do with actually serving the public, has been exhausting, especially when balancing that with any professional development and raising a young family. After all, we are supposed to be citizen legislators, not full-time politicians.
To my supporters, I want to reassure you that I have not made any final decisions about next year's elections. The filing deadline is in February and prior to that, we will have redistricting during the legislative session.
At the end of the day, while I am an elected official, I am also a husband, father, son and friend, and sometimes we just need to take a moment to readjust to achieve balance.
Stary tuned and God bless,
Del. Pippy"