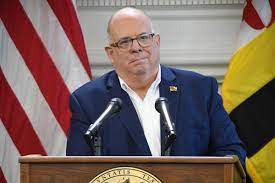 This to help the state recover from the damage from the remnants of Tropical Storm Ida.
Annapolis, Md (KM) Governor Larry Hogan is asking for a presidential disaster declaration for the state of Maryland due to the damage caused by the remnants of Tropical Storm Ida. He's asking the Maryland Emergency Management Agency be the state coordinating agency for this request.
"As our communities continue to recover from the devastation caused by Ida, we have been coordinating very closely with local officials to assess the damage and provide whatever support we can," Governor Hogan said in a statement. "We are requesting a presidential disaster declaration to make sure resources are available, and help those affected recover as quickly as possible."
While the major disaster declaration is for Individual Assistance for Anne Arundel and Cecil Counties, Hogan is asking that the Hazard Mitigation Grant Program be available to all 24 jurisdictions in Maryland.
The Governor's Office says state agencies began coordinating public safety action s and recovery operations well before Ida came to Maryland.
After the storm, the State of Maryland conducted a preliminary damage assessment with FEMA and local jurisdictions. That assessment found that at least 142 homes and businesses were damaged during the storm.
By Kevin McManus