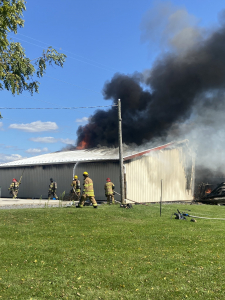 Personnel were called in from Carroll County to assist.
Frederick, Md (KM) It was a busy afternoon for fire fighters in Frederick County.
At around 12:15, personnel were dispatched to 7411 McKaig Road a large outbuilding on fire. . When they arrived, personnel found fire from all sides of the 60-foot by 30-foot building. A tanker task force was organized to bring water to the scene. Also, fire fighters and apparatus from Carroll County came to assist.
McKaig Road was closed at Gas House Pike, and motorists were urged to avoid the area.
The blaze was brought under control by 4:30 PM. . But fire fighters remained at the scene to put out hots spots.
No injuries were reported.
By Kevin McManus