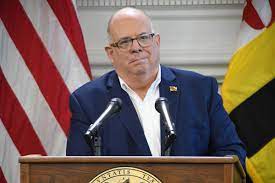 He also says the state is getting ready to vaccinate five to 11 year olds.
Annapolis, Md (KM) Governor Larry Hogan is encouraging all Marylanders to get their COVID-19 booster shots.
During a news conference Thursday in Annapolis, Hogan said the state has been making preparations to help administer the shots. "State health officials are engaging directly with Maryland nursing and congregate care facilities and with local health departments, primary care physicians, hospitals, pharmacies and other providers across the state," he says.
In addition, the statewide call center began contacting all eligible Marylanders and helping them make appointments for their booster shots.
"We will also be launching a series of television and radio ads encouraging eligible Marylanders to get their booster shot," the Governor says.
Federal officials have given approval to the Pfizer vaccine for use as a booster shot.
The Governor's Office says Marylanders can get their booster shots if they've received their first two doses of the Pfizer vaccine. Immuno-compromised Marylanders who received the Moderna vaccine against COVID-19 are eligible for a booster. But at this time, there is no approval or guidance on the use of the Moderna or Johnson and Johnson vaccine as booster shots.
The state says it has administered more than 78,000 COVID-19 booster shots.
Also at his news conference, Governor Hogan announced that preparations are underway to vaccinate children against the COVID-19 virus. Earlier this week, Pfizer submitted its data to the US Food and Drug Administration which says the vaccine is safe and effective for children between the ages of five and 11. Hogan says that approval should come by the end of October. "I have directed state health officials to advance and accelerate their operations plan for vaccinating children, working closely with pediatricians, school systems and local health departments," he says.
A program to provide surveillance testing for school children has been put in place. "For the current school year, we provided $182-million to local school systems, specifically for surveillance testing of the student population. And we are now extended the application period for this program to October 10th. So far, only 13 of the 24 school systems are participating," the Governor says.
He's encouraging those school systems which are not currently participating to sign up. "There's no excuse for any school system to fail to take any steps to keeping their student and teachers safe." says Hogan.
The Maryland Department of Health's testing program currently has 415,800 rapid tests available for schools.
Currently, Governor Hogan says schools have not been hit as hard by the COVID-19 virus. "The very encouraging news is that since the start of the school year, we have had no surge in statewide COVID metrics, "he says. "The cases that occurred in schools represent a very small fraction of cases statewide, and we do not see any kind of increased severity among children."
Hogan says currently, there are only 11 children hospitalized in Maryland with COVID-19.
By Kevin McManus