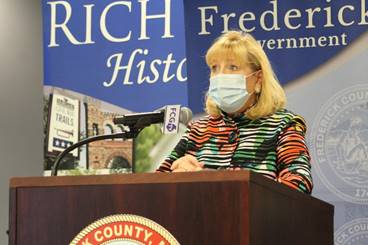 Frederick County Executive Jan Gardner said the population needs to get vaccinated in order to return to a more normal way of life.
Frederick, Md. (NS) During a public information briefing Thursday, County Executive Jan Gardner announced a new incentive to get people vaccinated against COVID-19. Full-time county employees will receive a one-time $1,000 bonus and part-time county employees will receive a one-time $500 bonus if they are fully vaccinated by November 30.
Gardner says county employees need to be vaccinated for the safety of all employees and the people they serve.
"Vaccines aren't just about us, they are about our entire community," Executive Gardner said. "Our goal is to ensure a safe workplace and to protect the public, as well as vulnerable employees who may be immunocompromised or have vulnerable people in their households."
The bonuses will be paid for by the County's American Rescue Plan Act funding.