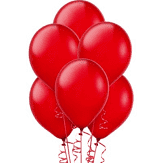 The new law took effect on October 1st.
Baltimore, Md (KM) In many cases, a celebration wouldn't be complete without balloons. But when the party is over, you can't intentionally the release into the air under a new law which took effect on October 1st in Maryland Ben Grumbles, Secretary of the Maryland Department of the Environment, says this law is intended to protect wildlife and the state's waterways. "Those balloons clearly are getting into our waterways and causing problems for wildlife. And are part of that rising tide of that plastic pollution. So this is an important step forward to stop it," he says.
The law is very similar to ones enacted in the neighboring states of Delaware and Virginia. The Frederick County Council approved a similar ordinance in December, 2019.
MDE says the new law, bans the intentional release of balloons. It says when they land, these balloons create litter and threaten the health and safety of animals on the land and in the water. Grumbles says this plastic pollution has washed up on beaches in the Mid-Atlantic. Ones that end up in the woods can be mistaken by wildlife for food.
But Grumbles says the new law will not prevent the use of balloons at celebrations, such as children's birthday parties. "There's a culture around balloons and celebrations. What this very, very focused law is about is intentionally releasing balloons up into the air. So it's good to pop the balloons and drop them into the trash can after using them for celebration," he says.
The law covers people 13 and older, and also prohibits mass release of balloons into the air.
MDE says, in a statement, that the law does not apply to balloons released for meteorological or scientific purposes by a state or federal agency, or by a college or university conducting research on behalf of a government agency. IT also does not prevent an amateur operator with a Federal Communication Commission license from releasing a balloon with a radio tracking device. Hot air balloons are not covered by this law because they are recovered after they descend to the ground. A negligent or unintentional release of a balloon is not covered by this law..
Violators could be fined up to $100, per violations, or be required to do community service. They could also be required to watch a video about environmental pollution.
But Secretary Grumbles hopes education rather than penalties will be used to get citizens to comply with this law. "The most powerful step forward for environmental stewardship are through education, not necessarily through regulation and penalties," he says.
MDE is tasked with enforcing this law. "As is often in Maryland, it's not just about a state agency. It's about local and county departments,": says Secretary Grumbles. "We have the ability to delegate some of those enforcement responsibilities to local officials, and we're in discussions on that right now."
"The basic point here is that we just need to get into the habit of not being litterbugs when it comes to plastic balloons," he says. "And that means don't intentionally release them into the air."
By Kevin McManus