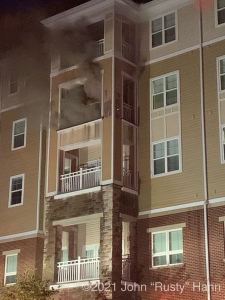 Fire fighters spent 35-minutes putting out the flames.
Frederick, Md (KM) One person was taken to the hospital for smoke inhalation as a result of an apartment fire in Frederick early Monday morning.
The Division of Fire and Rescue Services says personnel were dispatched at around 1:50 AM to the 500 block of Pearson Circle at the Lodge at Willow Pond, and saw smoke coming from a third-floor balcony. A Rapid Intervention Dispatch was requested.
The building's sprinkler system and the smoke alarm were activated before fire fighters arrived at the scene.
About 50 fire fighters from Independent, Junior, United, Citizens Truck, Walkesrville, Lewistown, Westview, Spring Ridge and Fort Detrick were able to put out the flames within 35-minutes. Crews remained on the scene to do overhaul.
The command staff worked with property management to assist the few displaced residents.
The County Fire Marshal's Office is investigating.
By Kevin McManus