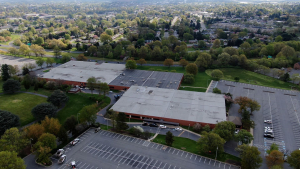 Most said the process was not transparent.
Frederick, Md (KM) The public was not kept informed about the potential purchase of a 209,184 square-foot office building on 26 acres of land in the city of Frederick. . That's the testimony heard by the Frederick County Council on Tuesday night during a hearing on whether the county should purchase this property located at 800 Oak Street in Frederick. .
Brent Simmons from Monrovia wondered why it took more than four months after the county expressed an interest that citizens are only starting to hear about it. "And it was more than one month after the contingent offer was placed before the public knew about this. And now there's a deadline that's ten days away in order to purchase this," he said.
Chief Administrative Officer Rick Harcum said the county is not hiding anything. "It took time for engineering reports to be done; for environmental professionals to get on site and do things. We couldn't release that information until they gave us the final reports. They literally just gave us those reports last week," he said. "We have not been sitting on information, hiding information. As fast as humanly possible, we've been sharing information with everybody."
The county entered an expression of interest in purchasing this building on May 19th, 2021. It has 90 days to do due diligence and conduct inspections of the building.
On August 16th, 2021, the County Executive submitted a $20-million contingent offer to purchase the building, and the seller agreed. It must settle on the property on or before October 15th.
Harcum says the county is seeking to purchase the building and its 26-acres for $20-million. . He says the county also wants $10-million to prepare the building, which includes installing solar panels on the roof, along $1.5-million for county staff to prepare the building for use. "In short, what we're asking the Council to do is approve budget funding, which we already have on hand. We have the cash in the bank. There are no new taxes involved in this request," he said.
Last month, County Executive Jan Gardner said the building could be used as a new 911 center. It was used in the past by United Health Care as its call center. She also talked about putting a public library at that location, and other county offices. But Gardner emphasized no final decision has been made.
Currently, the County is leasing the building to hold COVID-19 vaccination clinics.
In her testimony, Juliana Lufkin of Myersville asked why the public was not made aware of this proposal much sooner. "I'm also confused as to why we were informed right now when there's ten day left," she asked.
"The seller is a motivated seller, and has been watching this proceeding and has indicated if we don't go to settlement table on October 15th, they'll move on," Harcum responded. "This opportunity has come to us very fast, and will slip away from us very fast if we don't act by next Tuesday night."
Tuesday night, October 12th, is when the Council is expected to vote on whether to purchase this property. The period for citizens to comment is remaining open until Friday at 5:00 PM.
In other business, the Council approved a revised position statement asking the local legislative delegation to Annapolis to support mitigation efforts similar to those in the Climate Solutions Now Act during the 2022 General Assembly Session. The measure was introduced during the 2021 Session, but didn't make it out. However, some provisions from the legislation made it into other bills during the last Session. The vote on he position statement was 4-3 with Councilmembers Michael Blue, Phil Dacey and Steve McKay voting "no."
Also, Council Vice President Blue introduced a bill to provide homeowners whose properties are valued at $328,512 or less a property tax credit of $175. A hearing is expected to take place at a later date.
By Kevin McManus