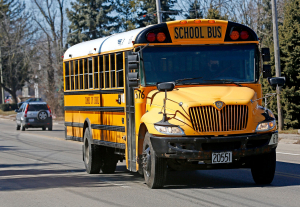 None of the students on board was injured.
Mount Airy, Md (KM) Fire and rescue units from Frederick, Carroll and Howard Counties were dispatched on Wednesday afternoon to a crash involving a school bus.
The call went out after 4:00 PM to 5813 Woodville Road between Old Annapolis Road and Jacob Road which is west of Mount Airy. Scanner reports says it was head-on collision between a school bus and a mini-van.
There were 19 second and third grade students on board the bus, and none was injured, according to those at the scene. . An adult male at the scene was evaluated. The school bus driver refused treatment.
The School System sent another bus to the scene to take the students home.
By Kevin McManus