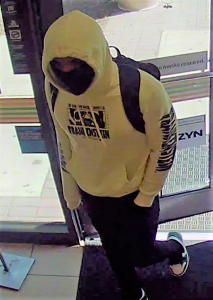 He held up a 7/11 in Gaithersburg.
Gaithersburg, Md (KM) Montgomery County Police are looking for a suspect in the armed robbery of a 7/11 in Gaithersburg last week.
Authorities say on Thursday, September 30th just before noon, officers responded to the store in the 400 block of Allied Place for the stickup. Detectives learned that a man entered the story, walked up to the counter, displayed a handgun and pointed it at the clerk, who was told to open the cash register. The employee complied and the suspect stole cash and property before fleeing the scene.
The robber is described as a man of unknown race, wearing a neon yellow hooded sweatshirt, black skinny pants white sneakers with green highlights. He was carrying a black Nike backpack and wearing a black mask.
Anyone who has information on this individual is asked to contact Montgomery County Police Major Crimes Unit at 240-773-5070. .
By Kevin McManus