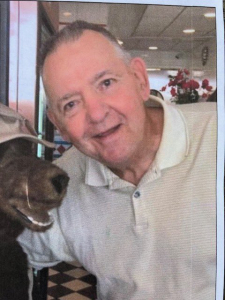 Tony Walker was last seen Wednesday morning leaving his home in Jefferson.
Jefferson, Md (KM) The family of a missing Jefferson man is asking for the community's help. Anthony Joseph Walker, 79, whose also known as Tony, was last seen early Wednesday morning at 1:40 on camera leaving his home.
At a news conference Wednesday evening at the family's home at 3835 Bedford Drive, Walker's daughter, Jennifer Kidwell, made this plea. "Our family desperately needs your help. in locating our elderly father. He suffers from dementia and is very hard of hearing," she said.
Walker is six-feet tall, and weighs 200 pounds. . He was last seen wearing a Maryland sweatshirt, khaki pants, Teva sandals and dark socks.
Captain Jeff Eyler, Patrol Operations Commander for the Frederick County Sheriff's Office, is asking property owners for help in the search. "Especially if the community can help us in checking their properties, their residence, and the outbuilding on their properties,": he says.
He says in the past, Walker has taken some walks and been missing for a few hours at a time. But the family has been able to locate quickly nearby. "What's concerning about this is that we have not received reports from the community about seeing Tony. We've been unable to locate him in our high probably areas," says Captain Eyler
His daughter says Tony is a very friendly person, and won't run away if he's approached.
Anyone who has seen Mr. Walker or knows his location, is asked to call 911, or the Sheriff's Office at 301-600-1046.
By Kevin McManus