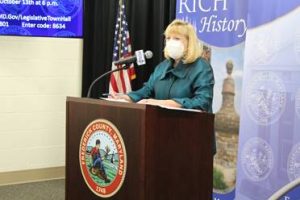 They include assistance for the elderly.
Frederick, Md (NS) Frederick County Executive Jan Gardner announced four legislative priorities for the upcoming session of the Maryland General Assembly in 2022. She said they are up to public review and consideration during a virtual town hall meeting at 6 p.m. on Wednesday, October 13, "Public input is essential to providing good government. Frederick County is unique among charter governments with our process, which ensures everyone has an opportunity to weigh in on our legislative package."
The first bill proposed was the Forest Conservation – Forest Conservation Fee. It is designed to maintain the current forest banking program through 2024.
The second was Tax – Property – Third Party Tax Bill Notification. It is designed to help protect the most vulnerable homeowners such as those with physical and developmental disabilities from neglecting to pay property taxes. It would allow a 3rd party individual to also be sent property tax notifications.
The third bill, Frederick County – Disposition of Marriage Ceremony Fee, would allow $15 of marriage fees to be re-allocated to Heritage Frederick for the preservation of marriage records.
The fourth was a bill called Abandoned Burial Lots – Termination of Ownership Rights. It is designed to help cemeteries maintain contact with owners of burial lots… especially unused lots. If a lot has been abandoned for 50 years, the lot ownership could return to the cemetery.
She invited the public for their opinions and input into these bills during the virtual town hall on October 13. It can be viewed at FrederickCountyMD.gov/LegislativeTownHall