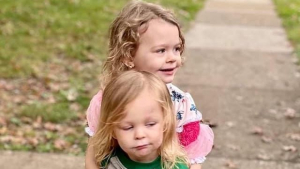 The fire remains under investigation.
Hagerstown, Md (KM) Two children rescued from a house fire Thursday night in Hagerstown have died. Carter Ward, 2, and his sister, London Linton, 4, passed way at Children's National Hospital in Washington DC.
The Hagerstown Fire Department says at round 7:00 PM, units were dispatched to a town house fire at 1036 G Noland Drive. where two children were trapped. The two kids were rescued from an upstairs bedroom and to taken to EMS crews who determined both were in cardiac arrest. CPR was administered and both were taken to Meritus Medical Center. The two kids were later taken to Children's National Hospital where they died.
The children's parents Dylan Ward, their father, and Taylor Fredette, their mother, were taken to Meritus Medical Center. Ward was later transferred to Bayview Medical Center for further treatment. Both parents have been released from the hospitals. .
The Hagerstown Fire Marshal and ATF are investigating the fire, and report it will be a lengthy investigation.
A Good Fund Me Page has been set up to help the family.