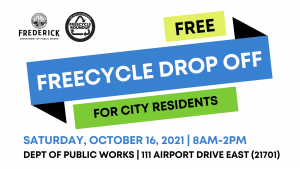 Residents can drop off their bulk trash.
Frederick, Md (KM) It's a time to get rid of your bulk trash. The City of Frederick is holding a Freecycle Roundup this coming Saturday, October 16th. Officials say it's an opportunity for residents to get rid of the items they don't want, and it keeps these materials out of the county landfill.
Between 8:00 AM and 2:00 PM, residents can come by to the City's Public Works Complex at 111 Airport Drive East, and drop off items such as furniture, appliances, bicycles, large toys and swing sets, and mattresses and box springs (three per household only).. They can also get rid of mowers, weed eaters and trimmers with the fluids removed, and grills but no tanks.
Each item must be no longer than seven-feet in length. No bags or trash will be accepted.
The event is open to Frederick City residents, and proof of residency will be required. All individuals need to wear masks, and should stay in their vehicles.
By Kevin McManus