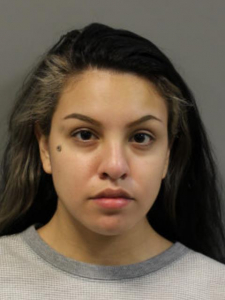 Natalie Nicole Quiroz
Police say she turned herself in on Tuesday.
Gaithersburg, Md (KM) A Brunswick woman has been charged in connection with a hit and run in Rockville last week. Natalie Nicole Quiroz, 21, is charged with 1st-degree assault, reckless driving, failure to remain at the scene involving bodily injury and other offenses.
Montgomery County Police say on Thursday, October 7th at around 2:00 AM, officers were dispatched to the 900 block of Rose Avenue for a hit and run involving a pedestrian. Witnesses told police a black Nissan operated by a woman left a parking lot at a high rate of speed, striking several people, including a woman who had fallen underneath the vehicle. The operator than drove through the gate of the parking lot and left the scene.
Police say through their investigation,, they were able to identify Quiroz as the driver of the black Nissan. She turned herself in on Tuesday, October 12th.
Quiroz was released on bond.
By Kevin McManus