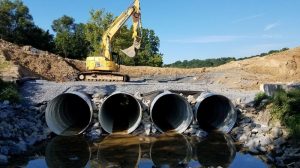 Project will fix pipes damaged during recent flooding.
Frederick, MD (KB) State Highway Administration spokesperson Sherry Christian said a repair project will take place this weekend on Maryland 355 (Urbana Pike) to fix drainage pipes that were damaged during the recent flooding.
"On Maryland 355 in both directions, between Thornapple Drive/Campus Drive and Doctor Perry Road/Big Woods Road," she said. "They're gonna close that down so they can repair those pipes."
Christian said in order to repair the pipes, crews need to remove the guard rail which is why the road has to be shut down.
She said the project is set to begin on Friday, October 15th, at 9 p.m. and last over the weekend until Monday, October 18th, at 5 a.m.
"We are really counting on the forecast to hold for this weekend — a little rain is okay, but we're hoping to get this done in two days," said Christian. "Our crews will immediately start working and will work 24/7 until the job is done."
Christian said alternate routes for northbound and southbound MD 355 travelers will be available.
-Traffic on northbound MD 355 will be directed to use southbound MD 109 (Old Hundred Road) to northbound I-270, then take eastbound MD 80 (Fingerboard Road) to access MD 355.
-Traffic on southbound MD 355 will be directed to use westbound MD 80 (Fingerboard Road) to southbound I-270, then take northbound MD 109 to access MD 355.
"As a reminder as always, drivers should slow down when approaching a work zone, be aware of surroundings and follow the posted work zone speed limit to protect themselves and our crews," Christian explained.
She said more information about the drainage pipes can be found on the Project Portal page on the https://roads.maryland.gov/pages/home.aspx website.