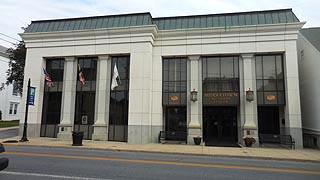 Members were asked by developers to help them search for water for their residential project.
Middletown, Md (KM) A request to the Town of Middletown from the Developers of the AC Jets project to help find water for the development was turned down last week by the Town Commission.
Burgess John Miller says the project is near an over-allocated aquifer, and the developers asked the town to help them locate another aquifer, or to invoke the "Brinkley Bill Option," where the Maryland Department of the Environment, at the town's request, gives priority to municipalities in Frederick, Washington and Carroll Counties when it comes to allocating water. Both requests were denied.
In an interview with WFMD News, Burgess Miller said this project has generated resistance from members of the community. "Most people are opposed to additional growth," he said. "They don't want the overcrowding of our schools to take place. They don't want the roads to become overburdened.
He says the town's schools are under 100% of enrollment, but traffic can get heavy on the local roads at certain times during the day.
The project is planned for 144 acres along Route 40A near Hollow Road on the east end of Middletown. Plans are to construct low density residential homes on 132-acres of land, and general commercial for the remaining 12-acres.
Despite the rejection by the Town Commissioners when it came to providing water for this project, the developers can still pursue their annexation petition for this property. Public hearings on this proposed incorporation into Middletown is expected to take place in late November or early December.
By Kevin McManus