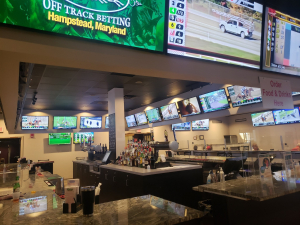 Long Shot's awarded in-person license.
Frederick Md. (RH/NS) Frederick's Long Shot's is one of the 17 physical locations awarded a sports gambling license.
Maryland Delegate Ken Kerr said up to 60 mobile phone and digital applications will be able to obtain a license to host sports betting.
A recent meeting to award sports betting licenses was postponed. Kerr says he does not know why.
Kerr says research shows that sports gambling is no more addictive than existing gambling avenues in Maryland.
The licenses cost between $50,000 – $2,000,000. It was intentionally made expensive to ensure that responsible businesses with capital host betting. The state does not want small companies with little security to have licenses.
The creation of sports betting in Maryland is not to encourage people to gamble, but allow Maryland to collect money from gambling. "Many of the states or all of the states around us have provisions for gambling." Kerr says, "So Maryland residents are simply taking their money out of the state."
The state of Maryland is hoping that with allowing sports gambling locally, fewer people will go to another state to gamble.
To use the mobile apps for betting, you have to physically be in Maryland. Using cell tower technology, the app will be able to know if you are located in Maryland. If you try to place a bet in another state, it will not work.
 "Rather than us trying to be a leader in gambling," said Kerr. "We're really trying just to catch up with neighboring states and not lose revenue to those other states."