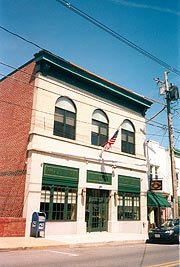 Residents can vote for a new mayor.
Mt. Airy, Md (KM) Special election day in Mount Airy is coming up on November 2nd, 2021. Residents who live in the town will get a chance to pick a new mayor to replace Patrick Rockinberg, or "Mayor Pat," who died in August.
The two candidates running for the post are Town Councilwoman Pamela Reed, and former Councilman Larry Hushour.
The polls will be set up at the Mount Airy Fire Department's Reception Hall at 1008 Twin Arch Drive, and will be open from 7:00 AM to 8:00 PM.
"If you are registered at your address in town, you are automatically eligible to vote in the town election," says Mount Airy Town Clerk Holly McCleary. She says it doesn't matter whether you live in town on the Frederick County or Carroll County side.
For residents who cannot make it to the polls on Tuesday, November 2nd, McCleary says they can vote absentee. "We have a request form that the voter fills out. that they can call us and request. They can access on line at our website; or they just come in and fill it out and then they can grab their absentee ballot package," she says.
The Town's Board of Supervisors of Elections will hold a news conference on Tuesday evening, November 2nd, after the counting has been completed to announce the results of the special election. McCleary also says the results will be posted on the town's website.
By Kevin McManus