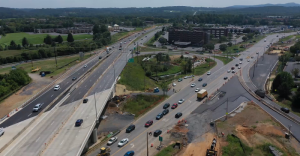 SHA says work will be done to connect the new ramp to I-270.
Frederick, Md (KM) The existing ramp from northbound Route 85 (Buckeystown Pike) to northbound I-270 will be closed this weekend.
The Maryland Department of Transportation State Highway Administration says the construction of a new northbound Route 85 ramp has been completed, but work will need to take place to connect the new ramp to I-270. This will involve leveling and the laying down of some new concrete.
The closure will take place beginning at 9:00 PM on Friday. The ramp will reopen on Monday at 5:00 AM, SHA says.
As part of its work, SHA says the left lane of the southbound Route 85 ramp to northbound I-270 will also be closed during the weekend.
Motorists traveling northbound on Route 85 to northbound I-270 will be detoured to westbound I-70 to take exit 55B to northbound Route 15.
SHA says this work is part of the Route 85 and I-270 interchange project which is designed to improve safety and reduce congestion. It included the replacement of the two bridges taking I-270 over Route 85 with one span. Work is also underway on Route 85 to add a new travel lane in both directions between Spectrum Drive at the FSK Mall entrance to Crestwood Boulevard. That project is expected to be completed by the fall of 2022 at a cost of $87.7-million.
By Kevin McManus