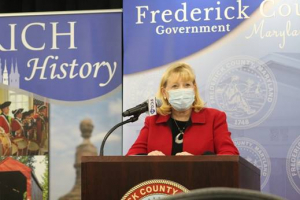 The grants totaled more than $198,000.
Frederick, Md (KM) The second round of Agriculture Innovation grants were awarded Thursday in Frederick County. During her public information briefing, County Executive Jan Gardner said t his grant program is designed to keep the county's farms economically viable now and well into the future.
"These ten grant recipients are being awarded over $198,000 in total,": says Gardner. "For that relatively small investment, Frederick County's agriculture industry is expected to grow to 26 full time and 25 part time jobs."
The First round of grants was awarded six months ago. The money comes from dedicated revenues collected by the recordation tax which is imposed on property transfers.
The farms which were awarded grants are:
Catoctin Breeze, Thurmont, for soil study to determine the most sustainable variety of grapes to grow.
Deer Run Farm, Emmitsburg, for a no-till planter drill that can be rented out to other farms.
District Farms, outside of Adamstown, for a feasibility study and design work on a new cooling system for their greenhouses.
Eater Acres, on Old Annapolis Road, for upgrades needed to add a retail space.
Fitzgerald's Heavy Timber Construction, Thurmont, to construct a timber frame barn for a sawmill.
Fox Haven Organic Farm, Jefferson, for an electrical system upgrade to install a walk-in freezer for its production garden operation.
Grossnickle Farms, Walkersville, to install well and septic for an on-farm market.
Moo Cow Creamery, Middletown, for a generator and logo wrap for a new ice cream truck.
Off the Grid Farm, Woodsboro, to add a saw mill.
Richvale Farm, Middletown, for commercial grade freezers to allow them to sell beef.
More than 30 applications were received for this round of grants.
"This brings our total investment for this year of the Ag Innovation Grant Program to just over $500,000, with the expectation of 37 full time jobs, and 42 part time jobs," says Gardner. "Adding to our economy is exactly what we set out to do with this program."
These grants are awarded for $5,000 or more to help farmers expand or diversify their operations so they can continue to remain profitable and viable.
The funds can be used for research and development, production buildings, or major fixtures or processing facilities. A review committee scores each application based on established metrics, and makes recommendations to the County Executive.
By Kevin McManus