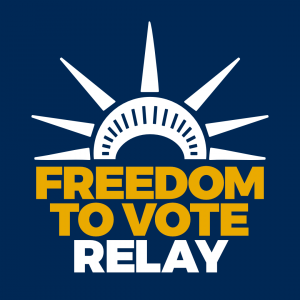 It's to show support for protecting voting rights.
Frederick, MD (KB) Nancy Soreng, Co-President of the League of Women Voters of Maryland, says the League is sponsoring the Freedom To Vote Relay to support voting rights.
The Relay began in West Virginia, continued through Maryland — including Frederick County — and will end on Saturday, October 23, in Washington D.C. It consists of driving, walking, running, and biking and takes place over a four-day period.
"So the purpose of this, and one of the reasons why we started in West Virginia, was Senator Joe Manchin worked with a lot of people and rewrote the For The People Act that was passed by the House of Representatives," explained Soreng.
After some tweaks, Senator Manchin introduced the legislation to the Senate, which did not pass due to a filibuster rule.
"The prupose of this is to let our members of Congress know that passing The Freedom to Vote Act, The John Lewis Voting Rights Advancement Act, and DC Statehood is something that the people want and it's important enough to modify the filibuster rule to do that," said Soreng.
Soreng said standing up for this legislation perfectly exemplifies the mission of the League of Women Voters.
According to the press release, listed are a few important aspects of the legislation:
The Freedom to Vote Act: will protect our voting rights, get big money out of politics, ensure fair voting districts, and help to create a democracy that works for all.
The John Lewis Voting Rights Advancement Act: will prevent states from passing further laws to erode the freedom to vote for Black, Indigenous, and other communities of color.
DC Statehood: will enable the more than 700,000 residents of Washington, DC, a majority of whom are people of color, to have a voice and a true vote.